1970 Chevelle, roller. Does not run. Need it transported from Los Angeles to North Carolina. Time is in your favor. Ready now.

Art Hodges
805-501-1370
Well, its been a long time coming but the day is finally here. I intended to do numerous videos to add to the site but as my fathers birthday drew near, it just made sense to go live with the campaign on his birthday. So here it is for all see.
The website below details the cylinder head design and how you can contribute to making the prototype a reality. I will also post the crowdfunding link as well. Please enjoy and if you decide to make a contribution, please spread the word! Thanks and welcome to Project Mo-Power!
Sincerely, Adriel Paradise
Project Link:
https://a-paradise.squarespace.com/
Support Link:
https://www.indiegogo.com/projects/project-mo-power/x/9984051
Attached photo shows 8 total configurations, 4 different valve layouts for the wedge style and 4 different valve layouts for the canted style.
Also, if anyone has any questions regarding the project, please feel free to email me directly at
adrielparadise@yahoo.com
or post those questions here thanks!
if you are running slicks and would like to test your car, please contact me.
Thanks
Bryan
4148391898
Dave passed on Jan 10. He was a true racer through & through. He raced at Miramichi, San Air & Epping NH. Anyone who knew him, soon became a friend. Very helpful guy,he lived life hard, he lived it fast & with all the passion you can imagine. Condolences to his family & his great love, Patty. I met him several years ago when he worked in Calgary. After my daughter heard him singing some Avro Levigne ? song while he was helping me work on a truck, she said "that guy's crazy" . That coined the name we all gave him & we will always remember "Crazy Dave". RIP my friend, you left a mark on us all !
Looking for a Very good Comp dragster??

Please check out the Classifieds

Thanks,

Mike Foster
speedy67 clean out you box.......hahahahahah he said box
Just saw e/sma is now 8.95 but at the last race it was 8.98 index.
The NA Shootout will host there finals at Cecil County Dragway in Rising Sun Maryland on Satuday Oct. 30th.
G-Force N/A 10.5
Goodyear Drag Radial
Holeshot Wheels All Motor Index
also an 8.50 Index class that allows any power adders and Test n' Tune for any cars. Bring them out and go testing.
Should be a great day with some record setting runs.
​
#1 May 23 US13
#2 June 19 Cecil County
#3 July 11 Maple Grove
#4 July 24 MIR
#5 Aug 29 US13
#6 Sept 18 MIR
#7 October 30 Cecil County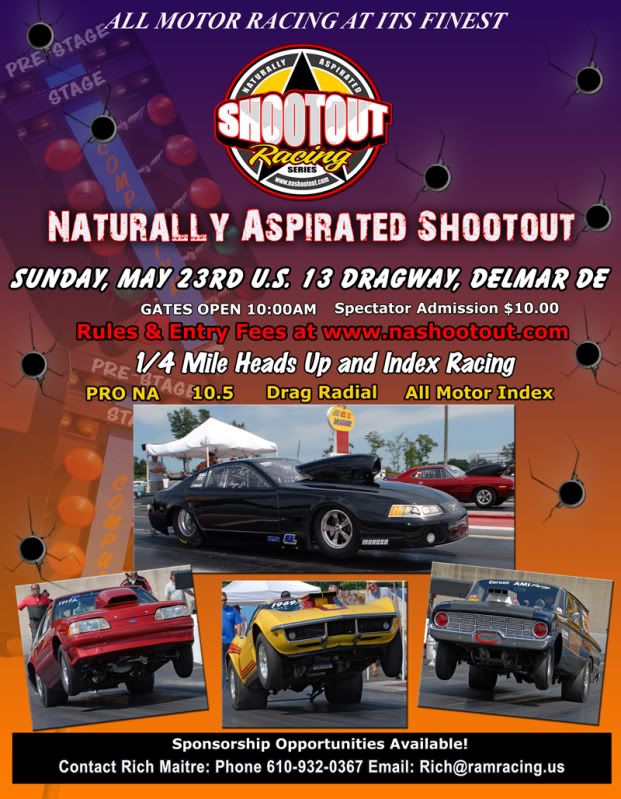 RAM RACING N/A SHOOTOUT featuring 4 CLASSES
3 HEADS-UP
1 INDEX
Liberty Gears PRO N/A
PAYOUT:Win $1200 R/U $500 Semi $175 1/4's $50
Entry $110
RULES:
http://www.nashootout.com/prorules.htm
G-Force 10.5
PAYOUT: Win $1000 R/U $400 Semi $150 1/4's $50
Entry $85
RULES:
http://www.nashootout.com/10.5.htm
RAM Racing DRAG RADIAL
PAYOUT: Win $800 R/U $350 Semi $125 1/4 $50
ENTRY: $60
RULES:
http://www.nashootout.com/drrules.htm
Purnell Body Shop ALL MOTOR INDEX
PAYOUT: Win $600 R/U $250 Semi $100 1/4 $50
ENTRY: $50
RULES:
http://www.nashootout.com/amirules.htm